Special cleaners from Planol – individual and economical
In industry and commerce, various types of surfaces represent challenges for professional cleaning. The different material properties and degrees of contamination require individual treatment with special cleaning agents.
The broad product portfolio from Planol includes a selection of special cleaners for a wide range of contamination and surfaces. As one of the leading manufacturers of cleaning agents, we offer you products tailored to your individual needs. This provides you with the appropriate solution for any form of contamination or dirt.
Our range of products in the special cleaner category
"Plano CLEAR" all-purpose cleaner from Planol
Plano CLEAR is an effective special cleaning agent that is suitable for daily maintenance cleaning of a wide variety of water- and alcohol-resistant washable surfaces as well as floor coverings. These include tiles, laminate, PVC, linoleum, plastic, stainless steel, chrome, ceramics and glass surfaces. For example, the cleaning agent can be used in open-plan offices (for example for monitors, keyboards, telephones, printers, whiteboards, mirrors, glass…
"Plano CLEAR" all-purpose cleaner from Planol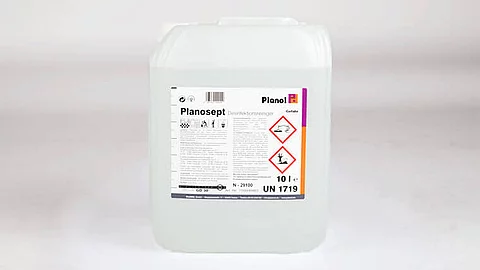 "Planosept" disinfectant cleaner from Planol
Planosept disinfectant cleaner cleans and disinfects in one. It also features outstanding cleaning power. A special characteristic is the proven fungicidal and bactericidal effect. There is an additional anti-viral effect complying with "EN 14476:2005". This means that the disinfectant cleaner can be used to deactivate enveloped viruses such as influenza viruses to prevent the transmission of diseases. According to current expert estimates, the…
"Planosept" disinfectant cleaner from Planol
Universal cleaner "Plano FORTE" from Planol
Its very economical combination of water-soluble solvents and innovative surfactants qualifies Plano FORTE as a ready-to-use multi-talent, particularly for cleaning plastic surfaces such as whiteboards, training rooms, microwave ovens as well as for cleaning in industry and workshops, all the way to cleaning wheel rims.
Universal cleaner "Plano FORTE" from Planol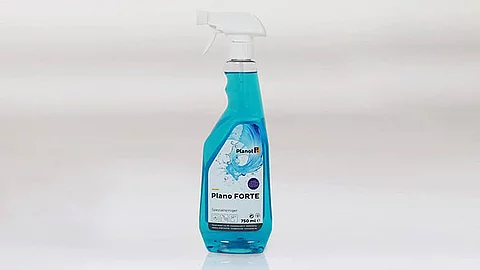 Special cleaners: The right solutions for every application
In food-processing operations, in workshops or in public facilities, there are a wide range of different surfaces and contaminations, making various demands on commercial cleaning. Different material properties mean that not all cleaning agents are suitable for every surface. In the same way, stubborn and unusual contamination cannot be removed with conventional cleaning agents. It is not possible, for example, to clean sensitive panes of glass with the same cleaning agents as used for stubborn grease stains in canteen kitchens. Special products are used for these purposes. Planol offers a selection of economical special cleaners that reliably clean certain surfaces and remove severe contamination completely.
Your advantages with our special cleaners
Co-operations in research and development
In our company, the development of clean solutions for the future of cleaning services does not take place behind closed doors. Instead, we work closely with renowned research facilities. We actively involve our co-operation partners such as universities, manufacturers from the industry or service providers from the field of facility management in the enhancement of our products.
Rapid production availability:
In addition to other channels, you can obtain all of our products directly through the commercial wholesale of our distribution partner IGEFA, who have established a Germany-wide network of branch offices. This enables us to ensure that our products reach you quickly. We also deliver larger order quantities directly to you by truck. You can, however, also collect your products from our location in Hanau, where we will have your goods ready for shipping at the agreed point in time.
Requirements-oriented solutions:
We support you with our specialists from customer service, quality management and the laboratory in adapting our products to your needs. Moreover, with our technical and chemical expertise we are your partner in the case of new recipes or enhancement of our or of your existing range of products.
Reliable removal of dirt with our special cleaners
For thorough cleaning and care of special surfaces, Planol offers individual cleaning agents that are used in professional maintenance and special cleaning.
Our odourless special cleaner Planosept has high grease-dissolving power and also disinfects. It is suitable in particular for cleaning in butcher's shops, slaughterhouses and kitchens. Its good wetting properties means it also cleans rough and porous surfaces.
In day-to-day maintenance cleaning, our product Plano CLEAR has versatile uses. Sprayed onto a cleaning cloth, this effective special cleaner is used on waterproof and washable surfaces as well as floor coverings such as laminate, PVC, linoleum, plastic, stainless steel, chrome and ceramics. The product achieves outstanding results when cleaning glass surfaces such as shower cubicles in the bathroom, car windscreens and windows or bakery displays. Plano CLEAR can also be used to clean open-plan offices in companies, including screens, telephones, keyboards as well as printers. It is also used in households and in laboratory facilities.
Our special cleaner Plano FORTE has a very effective combination of water-soluble solvents and powerful surfactants. It is therefore mainly used on aluminium, stainless steel and plastic surfaces such as whiteboards, as well as all waterproof surfaces, in seminar rooms and for kitchen appliances. Moreover, the product is used on industrial and workshop surfaces, where required. As a stain remover, Plano FORTE thoroughly removes stubborn fingerprints, pen scribbles, stamping ink or nicotine residues.
Both Plano CLEAR and Plano FORTE spread a pleasant scent and are filled as ready-to-use cleaning agents in handy 0.75-litre bottles. Planosept is available in 10-litre canisters.
Have we convinced regarding our range of special cleaners? Then contact us now and find out more about our product portfolio.