Our team – experienced and competent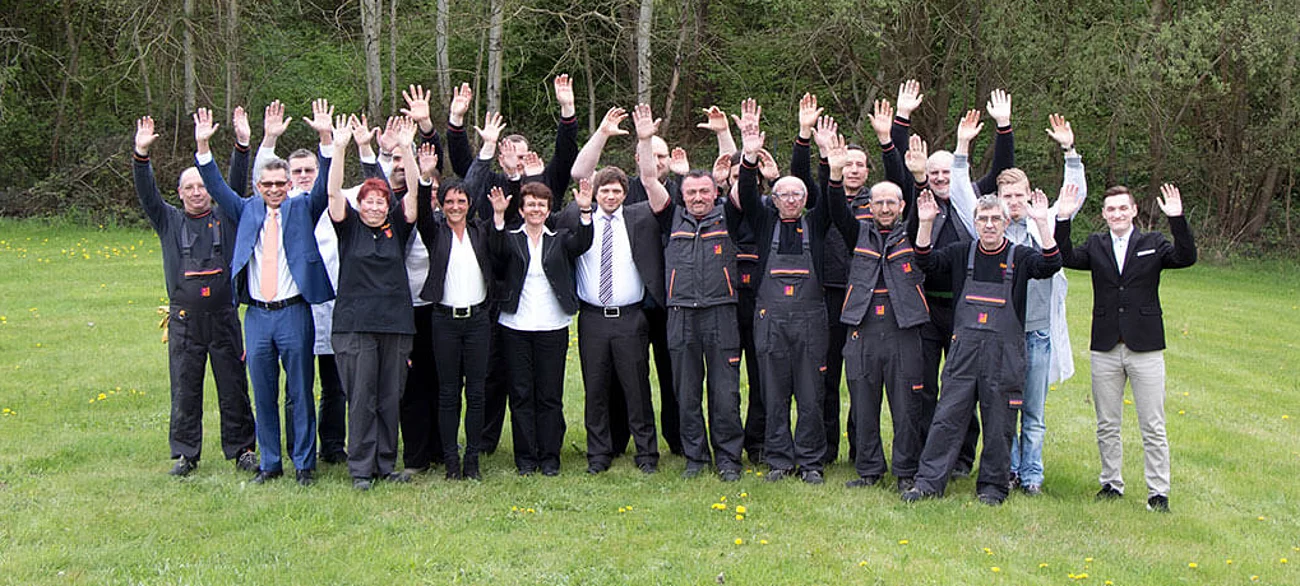 Planol is one of the leading manufacturers of cleaning agents and offers the complete bandwidth of cleaning agents and care products for commercial cleaning services. With our specialist know-how and qualified employees, we guarantee high product quality for our customers. We are a medium-sized company, which means you profit from short co-ordination paths as well as rapid response time, enabling us to implement individual customer wishes quickly and with a personal touch. This makes us your reliable partner and competent problem solver. It is also reflected in our trusting customer relationships of many years' standing.
In the board of management, we rely on the many years of experience in the sector of our CEO, Reiner Diehlmann, our plant manager, Peter Pancherz, as well as our deputy plant manager, Tim Linus Dotter.
Reiner Diehlmann, CEO of Planol: "The focus for us is on high product quality and customer orientation. We therefore also examine our products time and again from the perspective of our customers and develop our cleaning products geared to their individual demands. In doing so, we profit from the expertise of our employee as well as our extensive experience."
History – Planol moves with the times
1963: Planol is founded by the couple Friedrich-Karl and Christel Tuschy in Wuppertal. The product portfolio comprises the manufacture of floor cleaning agents and care products for use in cleaning services and is aligned to commercial customers.
1975: Piepenbrock acquires 50% of the company shares at Planol.
1977: The company moves into the newly constructed production facility in Hanau-Steinheim.
1978: Piepenbrock becomes the sole company shareholder.
1984: In Berlin-Reinickendorf, Planol sets up a second production facility.
2007: The laboratory facility is modernised to enhance the cleaning agents in line with market needs and rising customer requirements.
2016: With the Ecoplan series, Planol places their first biodegradable cleaning agent on the market. They are manufactured using plant-based ingredients.
2017: The Planol sponsor program, in which customers are actively involved in the product development process, is introduced.
2017: Introduction of the first three air fresheners for commercial application.
2018: Planol launched the newly designed company website with a modern layout, a newly develop product finder and increased user friendliness.
Wide range and individually tailored products
Planol has more than 50 years' experience in the manufacture of high-quality cleaning agents and is among the market leaders in this segment. We offer a comprehensive product portfolio of cleaning agents and care products for a wide variety of areas of application in professional cleaning services. Whether in industrial halls, administration buildings, workshops, sports centres or catering operations, every type of room, floor and surface has specific properties. We take account of these individual requirements and with approximately 50 different product have the suitable solutions at all times – for the cleaning, care and hygiene as well as protection of the objects. This enables us to ensure cleaning in line with accepted technical principles and the long-term value retention of property.
Our wide range of products comprises cleaning agents in the categories ecological cleaning agents, industrial cleaners, catering cleaning agents, glass cleaners, textile cleaners, special cleaners, basic cleaners, universal cleaners, sanitary cleaners, surface cleaners, machine cleaners and windscreen cleaning fluids as well as Cleaning concentrates and air fresheners. Over and above this, we have cleaning agents with a care component and floor coatings.
All of our products are tailored to the individual needs of our commercial customers such as building service providers, specialist wholesalers, corporate customers and resellers. We continuously develop our solutions in line with customer requirements.
Alongside the manufacture of our own products, we also operate in the private label business and perform individual manufacturing steps or the complete manufacturing process on behalf of our customers. For example, in contract filling we fill your cleaning products in the desired container, pack them and stage them for collection. In job order production,we also take over the entire production process – from product development in our in-house laboratory, through manufacture, all the way to filling, packaging and consigning the goods.
Future-oriented cleaning solutions
We regard it as our task to develop clean solutions for commercial cleaning services. We therefore work continuously on optimising our product portfolio in our in-house laboratory, taking account of ecological aspects. Over and above this, take account of the individual requirements of our customers when enhancing our products. At Planol, this does not take place behind closed doors – quite the opposite: We work closely with renowned research facilities. We actively involve our co-operation partners such as universities, manufacturers from the industry or service providers from the field of facility management in the enhancement of our products.
We have been involved in different specialist and industry associations for many years and work closely with renowned research facilities to create more efficient services. We are, among other things, an active member in the [German] Industrial Association for Body Care and Detergents. Through our parent company Piepenbrock, we are also represented in the European Cleaning and Hygiene Technology Research Association (FRT).
Over and above this, our certifications underline the quality of our products. We have been audited complying with ISO 9001:2015 and bear the seal of approval "Commitment to Sustainability" of the private German Institute for Sustainability and Economy. Selected products meet the requirements of the list of tested cleaning agents for ceramic surfaces in swimming baths (RKI list), the DEKRA Laboratory Check (compliance with Austrian standard B 5105; separator-friendly properties), and DIN 18032 Part II (sports centre cleaning). Products that are particularly environmentally-friendly and biodegradable bear the European environmental certificate EU Ecolabel (EU Flower). We also participate with all products in the Dual System in Germany.